I know from experience how much work it is trying to keep a house clean and that's where our housekeeping tips and gadgets can help you.
It especially true when you have kids making a mess where you just cleaned up a few minutes ago.
My solution is to use effective tips and gadgets, to make your job easier.
For example, can you imagine a vacuum cleaner that does your floors all by itself?
This is the sort of thing that would dramatically lower the amount of work you have to do in keeping your floors clean, right?
This is possible using smart devices, which are becoming more popular in the modern home, day by day.
The housekeeping tips and gadgets list
I would like to walk you through some products and tips that will revolutionize your cleaning routine. Hope you enjoy the list.
1. Stop trash from smelling bad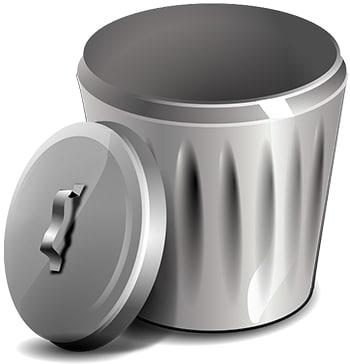 Smells from your bin can be annoying. Especially in the kitchen. I found it embarrassing when someone is around to visit, and they have to throw something away just before I meant to take the trash out.
Something else I'm sure that I don't have to explain how annoying it is when you go to throw something away and the bin is stuffed full. You are left standing with the item you want to throw away, on top of that, you have to empty the bin first.
Some tips for stopping the trash from smelling:
Empty the trash more regularly. Try and set reminders on your phone to check your bin if it needs emptying.
Use bin liners with a scented fragrance. This will help mask some of the bad smells hanging around.
Use liners with drawstrings. This can help with sealing the garbage within the bag, keeping the smells trapped inside.
When preparing food, keep a smaller bin liner on the kitchen counter. As you have waste bits of food or throwing old food away, you can dispose of it when you are finished preparing your meal.
A housekeeping gadget to help with trash odors
Smart trash cans
This is an excellent way to know when your garbage needs to be taken out. This will avoid bins that are overfull and it will get you taking the trash out more regularly.
Some useful things about smart trash cans:
Easy access: Simply your bin to open or wave your hand in front of it. Touch-less models have different ways you can get them to open.
Filtration system: Some models have a carbon odor filter, to absorb the unwanted smells.
Deodorizer: Compartments for deodorizing, to help it smell fresh.
Bag dispenser: A handy bag dispenser is built in to allow quick and easy change of your liners.
Compost compartment: Some bins have a separate compost compartment, to get your compost going, before taking it out to your compost heap.
There are other sensor units available to attach inside your existing bins or outdoor trash bins. This is especially handy for businesses that need emptying done regularly.
2. How to keep floors clean
Here are a few tips on how to keep your floors tidy:
For your mopping, try and use some warm water, a soap of your choice and a few tablespoons of white distilled vinegar. You may be surprised at the outcome.
When vacuuming, try slowing down with the speed of your motions. Going over a carpet slower allows a better clean, which could save you from going over a spot too many times.
Try and avoid using water on wooden floors. This could cause damage to the wood over time.
Clean often. I know this sounds like work, but it saves a lot of time when you keep up with regular cleaning. The more often you clean, the less there is to clean.
Here is a housekeeping gadget for your floors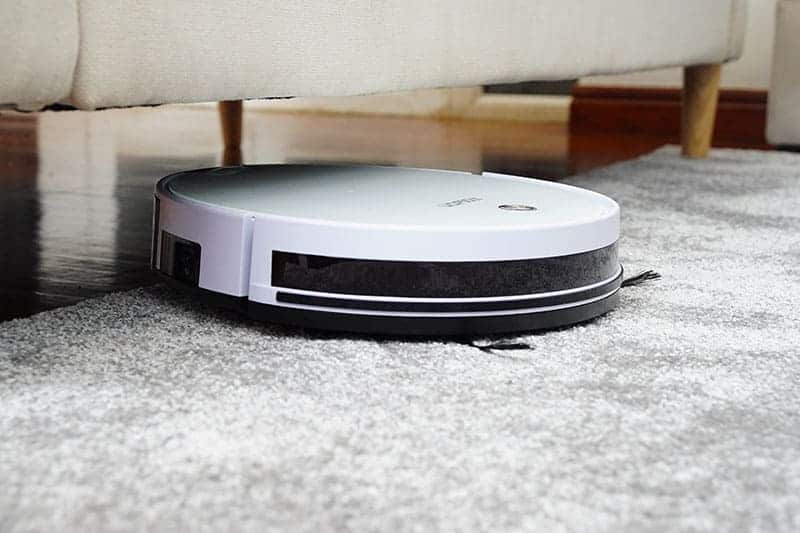 Robotic vacuum cleaners and mops
This handy housekeeping gadget operates on a schedule you pick. Use a robotic vacuum in conjunction with a robotic mop, and you can have clean floors all the time. With a robot vacuum, it will change your need to manually vacuum, down to a monthly chore.
Some nifty features of a robotic vacuum cleaner:
Vacuums all kinds of floor surfaces: It will handle your kitchen, living spaces even where you have a rug laid.
Handles most kinds of a mess: Works on pet hair crumbs, sand, dust, and human hair.
Safe: It will move away from objects when it detects something. It also detects steps, so it won't tumble down the stairs.
Intelligent: It will go around any objects, legs of chairs or anything else you have to lay around. It can go under furniture that's not too low.
More of these devices are coming onto the market. This then results in the price of them coming down, over time.
You can read more about the good and bad of robotic vacuum cleaners to know more about them.
3. Keep the toilet smelling fresh
I can offer a few cleaning tips on how to keep your toilet fresher:
Keep a bottle of sanitizing solution near the toilet. Every morning, or evening, simply squirt some in the bowl and give the inside rim a quick run over with the toilet brush. It's easy to do and will go a long way to provide a fresher smell around the toilet area.
Use some baking soda to help you remove any staining starting to form. Leave on the area for a few minutes. You can even add some white distilled vinegar to consequently help it along.
Adding a few drops of lemon in your toilet tank may prove useful.
A deodorizer that hangs inside the rim of the bowl freshens things up whenever the toilet is flushed.
Here is a gadget to help you maintain your bathroom
Smart toilets
They are becoming more popular by the day. You can add a smart toilet seat to your existing toilet, or replace your toilet with a smart toilet which is designed and built for its purpose.
Allow me to run through a few things a smart toilet can do:
Self-cleaning: Various techniques are used with different brands and models. Certain models use automated brushes that swing out of the toilet seat lid and do the cleaning. Others make use of water, disinfectant and UV lights. Some systems use warm air to dry cleaned areas. Certain designs of the toilet bowl contain a rimless construction, therefore lowering the amount of difficult to clean areas.
Deodorizer: An automated deodorizer keeps the bathroom smelling fresh.
Bidet: Certain smart toilets and seats contain a bidet, which can also offer more specific cleaning for men and woman.
Lets you see: LED's provide a gentle glow. Therefore allowing you to go to the toilet at any hour, without having to turn on any lights.
We also have more bathroom gadget ideas if you are looking to improve your bathroom experience.
4. The best way to clean windows
Keeping windows clean is one of those things I cannot get away from. When I look out from my house, and I notice the dirt on the windows, it really bugs me.
Maintaining clean windows:
Invest in a decent squeegee. Along with this use a bucket and a cleaning product that is made for windows. Some products could get you frustrated, by leaving streaks or spots behind. Always use warm water, not too hot of course.
Always squeegee from the top first, row by row, thus letting the excess water always run downwards.
If you throw some white distilled vinegar into the water, it will help get rid of those annoying water spots, left by dried-out water droplets, etc.
It may seem a bit much, but after washing and performing a squeegee routine, I like to go back with some window cleaner. Spray the glass and give it a good wipe. This just helps with any bits that were missed with the squeegee, like streaks, etc.
Another useful product is a rechargeable vacuum squeegee. It gets rid of the water as you squeegee, leaving less water behind and less streaking.
A gadget that could help you keep your windows clean.
Smart window cleaner
These products can help especially when you have windows where it's hard to get to.
Safety: This machine can take the risk out of cleaning windows that are high up, or awkward to reach.
Control: You can control these devices using a smartphone or remote control that gets supplied with it.
The cleaning on these machines isn't perfect, yet. But it can be used a supplemental cleaner for your windows. If you can get it into areas where you cannot reach, it will be a huge benefit to you. In the future, I'd like to see some battery varieties being produced.
One thing I'd like to stress is that there are a couple of these devices on the market that doesn't work that well. Make sure you do your research before buying any of these kinds of products.
5. The easiest method for lawn maintenance
Some tips on keeping your lawn tidy:
It's highly recommended to do your lawn as often as possible. Not only is it an easier and quicker cut, but requires fewer trips to empty your clippings. It will also be less wear and tear on your lawn mower, saving fuel or power.
A lawn edger goes a long way to make neat edges. Really makes a difference to the tidiness of your overall lawn. This device has a set of wheels and a metal blade and does an absolutely perfect job on your edges.
Your lawn mower can also be useful to suck up grass clippings and other debris left by edge trimmers or lawn edgers, on concrete paths or driveways.
Invest in a lawn feeder. This is a small bucket on wheels that disperses lawn feed on your lawn as you go. It will keep the soil well nourished and your lawn will look great. Get a slow-release type, it might avoid burning your lawn as well as allow longer spaces between feeds.
Watch those weeds. If you see weeds starting to form, get some selective weed killer, and get rid of them. If it's a grass type variety of weed, dig them out as soon as possible. Make sure you don't get any of their seeds on your lawn when you remove them. Weeds cause a poor looking lawn by stealing nutrients, with some types of grass especially.
This machine is a huge time saver. It automatically keeps your lawn cut.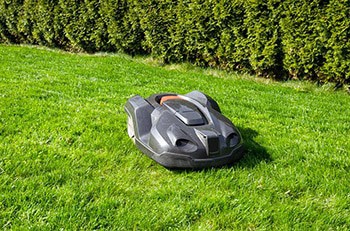 A robotic lawn mower
One could raise the point that the cost of the device could pay for a garden service to mow your lawn for two or three years, maybe a bit longer. But, what happens after that?
After that point, you are no longer having to pay anyone to cut your lawn. If you are someone that mows your own lawn, then I guess I don't need to even speak about the benefit of not having to get your mower out every second weekend.
Here are some of the features you can expect from a robotic lawn mower:
Automated care: It always works to keep your lawn short at all times.
No more clippings: Because the machine cuts regularly, it mulches your lawn with small clippings.
Reliable: These machines have been proven to work well and reliably.
Just one warning: if you have any of your clothing items fall off your washing line, pick them up! Consequently, you definitely don't want your clothes to be shored up by it.
This is one of my favorite items in our housekeeping gadgets list.
You can read my other article about smart automatic lawn mowers.
6. Keep your swimming pool clean
Tips for keeping your pool well maintained:
Buy a pool cover. It's obvious keeping things out of your pool when it's not being used will reduce the amount of dirt and debris from ending up in your pool for you to clean out later. Once the dirt is in, it's not coming out on its own.
Make sure you are maintaining your filters. This alongside a good water test is the backbone of having great water to swim in.
Have a professional come in at least once a year. Something else might be wrong that you are unaware of.
Make sure your pool fence is up to code and isn't damaged, loose or in need of attention.
Here's an awesome way to keep your pool surface clean.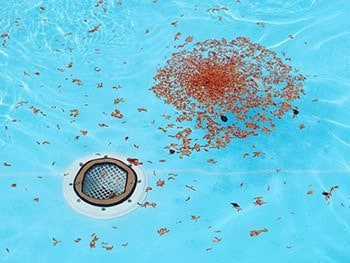 Robotic pool cleaner
Saves you money: Initially it could cost you, but in the long run, is where you would save. It's energy-efficient and saves you having to call someone to clean your pool for you.
Uses less water: It will save you having to backwash the filter. The dirt goes into the unit's filter instead.
It really works: Product designs in this type of technology are focused on the efficient suction of dirt and other debris. Thus enabling it to have a powerful suction capability. This could save the number of cleaning devices kept in your garage.
Have some fun: Some of these units have unique ways to control them. One of them has a gyro built into the controller which allows you to tilt the remote to control the path of the cleaner.
Robotic pool cleaners have intelligent ways to climb the sides of the pool, even when sharp angles are in your pool's design.
You can read more to find out if a robotic pool cleaner is worth it or not for yourself.
Conclusive thoughts for housekeeping tips and gadgets
There are many more smart devices being released onto the market. Some of them are a bit gimmicky, others work really well.
There are a few products I originally thought I would never use until I started actually using it. Now I own several devices I never thought I would and it's really improved my life.
I hope you could take away at least one item from my housekeeping tips or gadgets, and that it helps you in some way.