How To Monitor CCTV From Mobile Phone
Knowing how to monitor your CCTV from a mobile phone comes with the huge benefit of remote access to your footage. This means you can be anywhere and have eyes on your property.
To view CCTV footage on your mobile phone, download and install the specific app recommended by the documentation. Proceed to configure the app by filling out the necessary settings as directed by the manufacturer. Every time you open the app, you should be able to view everything in real time.
We have already covered using your laptop screen as a CCTV monitor, so now, we can discuss what it takes to use your smartphone instead.
Let's look more closely at what you need and more specifics on how to get this done.
How to Monitor CCTV From Mobile Phone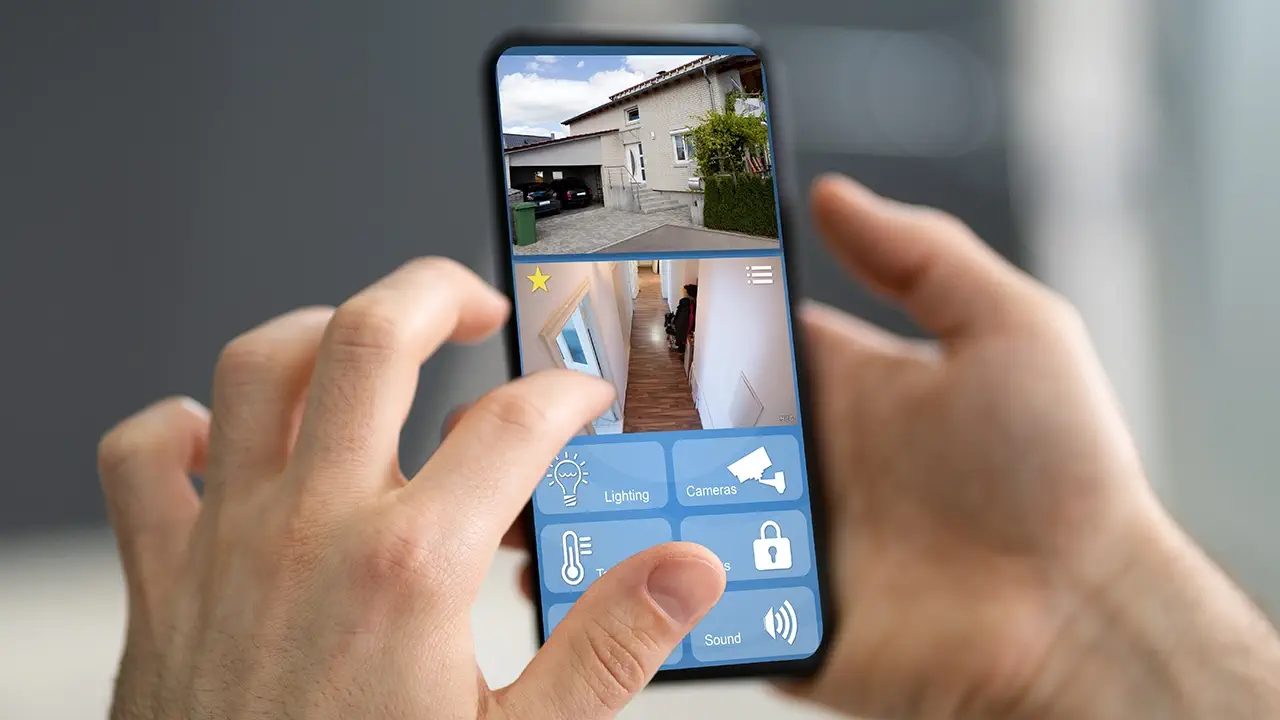 Benefits of being able to monitor CCTV cameras from your smartphone
We have already mentioned the benefit of accessing CCTV camera feeds from anywhere in the world by simply opening an app on your smartphone, which is very helpful. But what other benefits are there?
Here are a few benefits that reinforce how handy this capability can be:
Cost-effectiveness: You don't have to invest in expensive software or hire a physical company to monitor your home. You can keep a close eye on things, and you will be alerted directly to your phone when something suspicious occurs.
The control is in your hands: You don't have to rely on anyone else or be concerned by someone overlooking or making a mistake that costs you a breach in security. Keeping a close eye on everything gives you the power to watch everything carefully.
Increased security: This lends itself to the last point. Keeping an eye on your property as often as you like allows for personal monitoring more regularly than any other service. You can quickly neutralize the threat when you see something out of place.
Choosing the right CCTV system for mobile viewing
Besides allowing you to view your CCTV camera's anywhere, there is also the peace of mind it gives you, knowing that you can view your properties anytime by opening an app on your smartphone.
Choosing the right CCTV system is very important as it can affect where your budget is allocated in terms of importance as the number of cameras required, image quality, storage capacity, and, most importantly, compatibility with mobile phones.
Types of systems that can provide you with the needed features:
Network/IP Cameras: These cameras are often equipped with the ability for mobile phone apps to access them, seeing that they connect directly to a local network in the building or home.
Digital Video Recorders (DVRs) and Network Video Recorders (NVRs): These kinds of devices allow you to record footage from your cameras to a local hard drive or the cloud. They also can have a feature built into them that allows direct connectivity from an app on your smartphone. This provides full access to all the cameras connected to them.
Cloud-based CCTV systems: These systems rely on an internet connection to store all the camera footage on a server in the cloud. These setups are perfect for mobile phone viewing, as the system must be connected to the internet to operate.
Hybrid CCTV systems: They can provide a way to connect analog and digital camera footage and combine them to store the videos anywhere based on the specifically chosen system. A mobile app can often be set up with these CCTV systems.
Other factors to consider:
Compatibility: Ensure that the CCTV system you consider is compatible with your mobile phone's operating system.
Image quality: The system has to offer high-quality images and video to allow for clear viewing from your smartphone.
Storage capacity: If you are in the market for higher image quality for easier phone viewing, more space will be required to store the camera footage. This will determine how long the saved footage can be kept until it has to be replaced by newer recordings.
The number of cameras: It is always one of the most important factors when choosing a CCTV system. The better your coverage, the more likely you will pick up something sooner. This is even more true when monitoring staff activity for a business. However, you must ensure the system supports the number of cameras you need.
Mobile app functionality and quality: Not only do you want to consider a CCTV system with a mobile app that is user-friendly to use but also easy to navigate. Consider a system that offers a well-refined app with good user reviews. Cheap solutions written by an unknown Chinese brand might cost you more after replacing the system with something better because you get fed up with feeds dropping out or trying to navigate the app reliably.
Cost: You need to think about the overall cost of the system, yes. However, remember that this system is the security of your home or office, and once it's installed, it is costly to rip it out and slap in a new one. Also, consider any subscription fees or ongoing maintenance costs that might be less attractive than a higher initial cost.
Support: Always choose a system that is locally backed if possible. Good support is vital, and you don't want to be stuck with problems that are hard to fix without the proper support.
After considering these factors, you would have taken good measures to ensure you increase your chances for a reliable and efficient system perfect for a mobile phone.
Setting Up Remote Viewing On Your Smartphone
Here is the basic three-step outline of what you must do to get CCTV viewing on your phone.
Setting it up
Connect the CCTV system to your router or modem using an ethernet cable (recommended) or WiFi.
You will need to log into the web interface of your specific CCTV system. This usually means opening a new browser window and entering the system's IP address.
Navigate to the web interface's network settings or remote access settings area. It will depend heavily on your CCTV system as to how you navigate or gain access to these settings.
Configure the settings to allow remote viewing. You may have to configure port forwarding or set up DDNS (Dynamic Domain Name System) to enable access or to improve reliability. My suggestion is rather to aim to use UPNP if possible.
Set up user accounts and passwords if necessary. This will help ensure that the correct people gain the right amount of access.
Save the new settings and exit the web interface.
Now that you have the CCTV system prepared for mobile access, you must prepare your phone to start gaining access to it, which we will discuss next.
Download the CCTV app and install it
Open the store app for your phone. For Android, open the Google Play Store. For iOS, open the App Store.
Search for the app for your specific CCTV system. For example, if you have a Hikvision CCTV system, search for the "Hik-Connect" app.
Once you've located the app, download and install it as you normally would any other app.
Once it has been installed, open the app. You will often need to enter the username and password to log in.
The app should be up and running by now if it's designed well enough for easy, user-friendly operation. All the CCTV cameras should be viewable and live and be able to be recorded on your phone.
You should have everything set up at this stage to view your CCTV from anywhere you like. Once you have downloaded and installed the correct app for the CCTV system, it should be easy to get up and running.
Configuring the best settings for mobile viewing
Now that you have the mobile app up and running with your CCTV system, you must optimize it for use with your phone.
Follow these general instructions to get the most out of your system on your mobile phone.
Open the app that you installed on your phone for your CCTV system.
Access the settings or configuration options in the app.
Review all the settings related to mobile viewing, including camera views, motion detection, image quality, and video recording settings.
Adjust all the settings as needed to optimize the viewing experience on your mobile phone. For example, you may want to adjust the image quality for the best balance between bandwidth usage and image clarity for your phone. Another setting you may want to enable is that all motion detection is sent directly to your phone.
Testing these settings by reviewing recorded and live footage from your phone is very important to ensure everything works smoothly.
Check through all the remaining settings to ensure that you have taken advantage of all the features offered by the system for the best mobile phone experience.
Ensure all the settings are saved, and exit the app when done.
Troubleshooting Common Issues
Here are some handy troubleshooting tips for common issues you may encounter when attempting to get everything to run as you would like.
No Connection
If you have trouble connecting to the system using your phone, ensure your CCTV system is connected to the internet.
Double-check that your phone has a strong signal. You can verify the quality of your phone's connection by running a simple speed test.
Open your phone's browser and search for speed test. Speedtest.net is a generally accepted site that will give you a rough idea of your mobile's internet connection performance.
Poor Video Quality
This ties in with the first point. If your smartphone's signal is weak and you're getting slow connection speeds, you can expect the image quality to drop somewhat.
To view high-quality video streaming, you must have a fast enough connection to support it.
If your signal is strong and you're getting decent speeds, return to the settings area in the CCTV app and double-check the quality settings. You may have to increase the quality to get the results you want.
No Recorded Footage
If the recorded footage is unobtainable from your phone, check the CCTV settings from the web interface to ensure that the video is being recorded to a specific location of your choice and accessible from the mobile app.
Additionally, it is important to check that all the date and time settings are set properly in the system.
Lastly, look at the settings in your mobile app once more to ensure nothing is left misconfigured, turned off, or unspecified that may be preventing access to the recordings.
The App Is Crashing Or Freezing
As so many things could be causing this, I can only offer a few simple suggestions.
Clear the app's cache and data.
Restart your phone.
Uninstall and reinstall the app.
If you cannot solve the issue, contacting the manufacturer's support or the company that installed the unit may be the best option.
Other Compatibility Issues
If there are compatibility issues between your phone and the CCTV system, check that the phone's app is compatible with your CCTV system.
Check that the CCTV system is running the latest firmware to limit the possibility of bugs, feature upgrades, or added compatibility causing the issues.
You can also return to the mobile phone's app store and check that you have installed the latest version of the CCTV app.
Conclusion
Viewing CCTV cameras with a mobile phone has become much more popular due to the apps' functionality and flexibility.
However, the important parts, like compatibility, security settings, features, and image quality, are often the most challenging.
Once you iron out these issues, you can enjoy a long list of benefits and, most importantly, monetary savings.
I hope this article has given you all the tools necessary to choose and set up a happily working CCTV system that works well on your mobile phone.