Smart Blinds Retrofit (What To Look For)
This article aims to help you know what's involved in performing a blinds retrofit and easily automating your blinds or shades. If you are interested in purchasing a kit, you'll find exactly what you should be looking for.
Installing motorized blinds or shades is a common practice for home automation. But, with DIY kits available, is it not only an easier task but also one that has become far more affordable in recent years?
Here is some information on choosing your ideal smart blind kit based on features and tips about setting them up.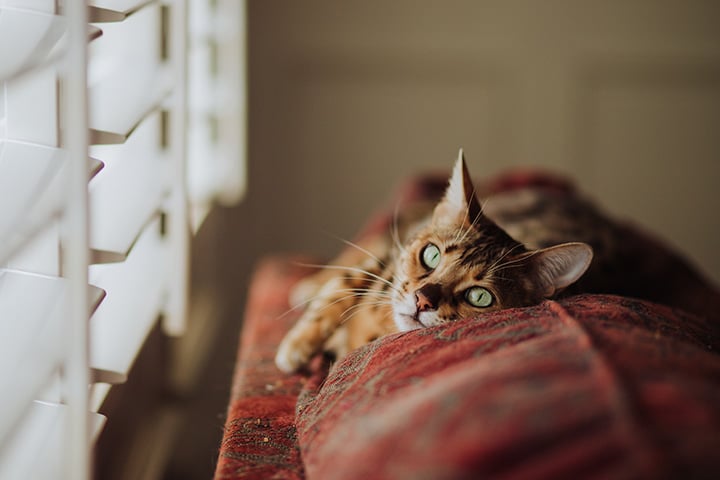 Is it difficult to install a smart motorized blind?
The short answer is no, it's actually straightforward, and I think anyone can do it.
It's just a matter of removing your old window blinds or shades and assembling the new components onto the old blind according to the instructions. Then you can reattach them to the window frame. It's really as simple as that.
So, this small project should be quite easy to accomplish.
Here is a video showing an example of the installation process:
How much does a smart blind kit cost?
Here are some examples of common motorized blind kits and their prices:
Graywind Motorized Zebra Sheer Horizontal Blinds: $185
Somfy Clever Tilt Horizontal Blind Motor Kit: $230
Graywind Motorized Roller Shade Blinds: $140
So as you can see, not too pricey at all for the comfort it gives you. Hook these up to a smart voice assistant to control them, and life becomes even better!
Other premium quality products are out there, mostly used by commercial companies. They have everything designed and built from the start.
These kinds can easily go for around $350 per window. If you are someone like that, have a look at Hunter Douglas and Lutron Serena.
Three main different types
The main types of blinds that you can automate are as follows:
Horizontal blinds
You can retrofit common types of horizontal blinds with a DIY Yoolax Smart Venetian kit. This recommended product has an optional solar panel to keep the batteries charged. It integrates very well with Alexa; you only have to specify the size when you place the order.
Motorized vertical blinds DIY
For vertical blinds, the kit works a little differently. The kit fastens to the pulley chain and is usually mounted on a window frame or wall. It has its own remote to control it. Unfortunately, it can't integrate with Alexa yet.
This is an effortless way to make your vertical blinds smart. It avoids having to replace your entire blind itself by offering a way to operate them for you.
DIY Smart shades
Smart shade kits work very similarly to the vertical blind kit. However, there is an alternative solution.
Instead of operating the bead chain to open and close the window shade, a tube-motorized mechanism does a better job. Although it's slightly harder to install, the payoff is worth it. It is quiet and leaves you with a tidy installation.
I prefer it as it's not relying on a chain drive to operate roller shades, but motorizing the roller mechanism itself should be easier for the product in terms of strain relief of certain components.
Somfy also makes motorized systems for projector screens using a similar design.
This shade is made with a modern-looking black-out material that will suit any home decor style. Available in several different colors and works really well with Alexa. Each order is customized to the size you want when you place the order on Amazon.
It comes with a solar-powered charger that keeps the unit completely wireless and working without recharge batteries.
What makes blinds smart?
You can have them open or closed for you whenever you want.
It's simply motors attached internally that do the manual work of operating mechanisms for you.
Added to this is the smart element, which allows you to control them with your smartphone, voice commands, or a simple switch.
This allows you to preset them to any position at any time of the day.
You can schedule them how you want, with any routine for any given day.
Or have them close throughout your house when wanting to leave your house for some time, to give an example.
Can smart blinds save on your power bill?
Yes, they definitely can. So how does it do this?
Let in sunlight at all times of the day, requiring less warmth generated by your heating devices. It accomplishes this by automatically adjusting them incrementally.
It could also be used oppositely. Keeping enough light in your rooms but shading direct sunlight automatically requires less cooling. Like having to run your smart ceiling fans slightly less, for example.
All this will make energy usage more efficient and allow your smart thermostat to do its job more effectively.
I think that the power saving alone is a worthy enough cause to install motorized blinds.
How long does the battery last?
Typically around six months. Obviously, it depends on how much they move during an average day.
Recharging the battery can be avoided by installing a solar charging unit. These are normally quite commonly available through various manufacturers.
Can it be controlled with a smartphone?
This depends on the make and model you are considering.
However, the most common makes and models include this feature. So yes, it will most likely have a smartphone app instead of remote control.
What features should you expect?
Here is a list of features I think should be included in most products and important factors for these kits:
Full control: Control of the directions and the opening or closing operations of the entire blind.
Sun following ability: This feature allows you to set how they are positioned at any time in the day. This can be useful if you want the amount of sunlight maximized all day. The opposite can also be set up to avoid direct sunlight all day but give you enough light to keep your room lit.
Solar panel and charging ability: This is very important. You don't want to keep plugging a charging device into them every six months. A solar charging system allows them to keep doing its thing without you having to worry about recharging its battery.
Compatibility: Integration with your existing smart home products is important. Before buying anything, check the compatibility of your smartphone, existing hub, or voice assistant.
Scheduling: I expect the ability to have them set to my liking at any time throughout the week or month.
Battery level access: The ability to see the battery level on your mobile device so you can keep an eye on it.
Conclusive thoughts
Blinds and shades are obviously found in most buildings today, which could slowly change as smart glass becomes more affordable.
But for now, it's still the most common way to attain some privacy.
And installing a kit is definitely one of the easiest methods to automate your blinds.
As you can see, it's not a difficult project and is relatively low in cost. It may be what you need for your next DIY smart home project.