Smart Ceiling Fan: Features, Cost and Installation
Keeping cool during the summer season usually takes a lot of effort. Air conditioning units are a staple when it comes to cooling down a room but in most tropical countries, this trusty equipment is sometimes not enough. So let's talk about a smart ceiling fan as an alternative.
Some homeowners put ceiling fans in tandem with the air conditioning unit and this usually works well. The ceiling fan is a combination of a light bulb and a fan.
It is often suspended on the ceiling to blow cool air into the room while providing a good supply of bright lights.
The trouble with traditional ceiling fans is that it is hard to adjust the fan speed in relation to the desired temperature.
In the past 5 years, a trend in using smart devices began. From the usual smartphone to smart cars, smart devices are starting to take over the appliances business.
We have already seen smart bulbs in which we can control the brightness and color of the bulb by using our smartphones or remote controls connected through WiFi.
So why not have a smart ceiling fan so that anyone in the house can control the fan speed for the perfect temperature needed in the room while also controlling the bulb?
Sounds great for an additional device that can be placed in a smart house.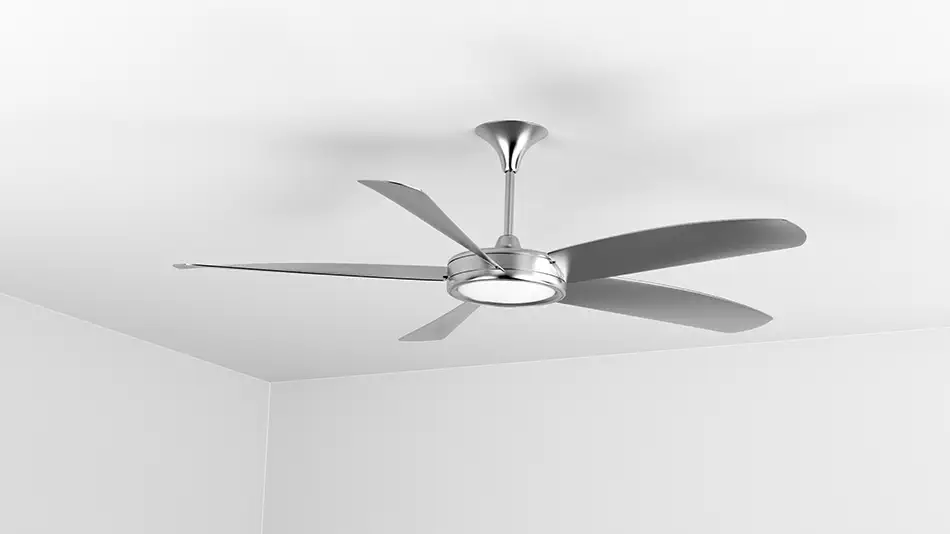 What is a smart ceiling fan?
Basically, a smart ceiling fan is still just a ceiling fan. The main reason it is called smart is that it knows when to turn itself on or off, it knows when to speed up or slow down.
It is very programmable in that it can be set to automatically turn on when it detects a person within its range. It also has presets that let it turn on automatically as per schedule.
Imagine having a ceiling fan that can either heat up or cool down your home? The Smart ceiling fan can easily do this by using its bi-directional blades. The smart ceiling fan can produce downdrafts or updrafts while spinning in any desired direction as controlled by the user.
What are some common features?
So, what is so good about the smart ceiling fan? Here's a list of some of its cool features:
Remote Control Capability: The smart ceiling fan has lots of readily available remote controls which can be used, it can be controlled using the on package IR Remote Control, or you can download the app to control it using your smartphone, laptop, or tablet via a WiFi connection.
Energy Efficient: Energy Star is a government-backed symbol for energy efficiency and the smart ceiling fans easily exceed its energy requirements by 450%. Talk about saving a lot of money from your electric bills.
Integrated LED Lights: The built-in lights in the smart ceiling fan is also smart in its own sense. The bulbs have interchangeable hues and brightness levels to fit the user's needs.
Bidirectional Blade Movements: The blades can spin in both directions to provide the needed downdraft air during summer and updraft air for the winter season.
What are the best smart ceiling fans on the market?
There are a lot of smart ceiling fan manufacturers today that produce great to mediocre smart ceiling fans.
In 2020, two of these manufacturers are neck and neck in the race to produce the best and smartest ceiling fan which can be installed in every home.
1. Haiku
This traditionally designed smart ceiling fan has received 75 international design awards since its conception.
Rated well on Amazon, this smart ceiling is truly impressive. With its Bidirectional blades, the fan can be set to turn on or off automatically.
With its compatibility with Amazon's Alexa, the Haiku can be controlled with your voice anywhere in the house.
It also has a temperature control setup so you won't have to use your air conditioning unit to control your home's temperature any time of the day.
Although their apps have received a little backlash from customers due to some bugs, their customer service has been spot on in assisting their customers whenever they are needed.
2. Hunter Ceiling Fans
For fans of Apple products, or for people who have been buying almost all of Apple's products, this smart ceiling fan is the best product to buy.
Hunter ceiling fans can be connected and controlled with Apple's HomeKit. HomeKit is a software framework that enables all iOS-based devices to communicate with each other.
This software can make smart homes a possibility if all devices have iOS as its operating system and this will also enable the user to use Siri to interact with all the smart devices in the house.
This smart ceiling fan comes in 3 designs, the Apache, Signal, and Symphony. Boasting a 52-inch blade that can spin bi-directionally through its Whisper Wind motor, this ceiling fan delivers a very powerful air without any uncomfortable noise usually produced by traditional ceiling fans.
These two smart ceiling fans are now the top names on the market and as time passes, these two companies will continue to produce better and smarter smart ceilings in the future.
How to install a smart ceiling fan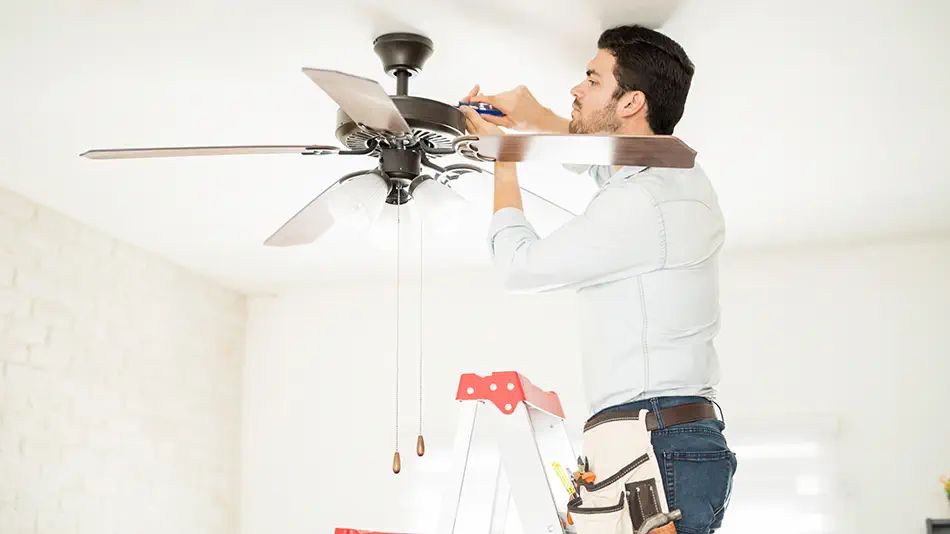 Now that you have the best choices for smart ceiling fans and assume that you have already bought them. Here are the steps in installing your smart ceiling fan.
1. Get your mounting tools ready
To install your smart ceiling fan, you will need a set of hand tools and one power tool, and of course, you will also need a ladder.
Tools needed:
Ladder
Pliers
Screwdrivers
Wire stripper
Electric drill with drill bits
2. Wiring and Electrical Work
So if your house has had a ceiling fan installed, it is best to replace it with a smart ceiling fan. The electrical wires used by the ceiling fan can be used for your smart fan.
But first, you will need to turn off your circuit breaker before installing or connecting your ceiling fan to your electrical grid.
When installing the electrical components of the smart ceiling fan, it is best to remove the blades and lights first so they won't be on the way during installation.
Our recommendation is to get your local electrician to simply come in and wire it up for you. It should be relatively inexpensive to do so and is a far safer option.
3. Placing the downrod
The downrod keeps the blades away from the ceiling and it is usually 2 feet long. To install this, you just have to remove the pre-installed screws and then mount it on where you wish to place the ceiling fan making sure that the wires go inside the downrod.
Leave a couple of inches of wire protruding out of the downrod, these wires will be connected to the motor of the ceiling fan.
4. Blades and Bulbs
After the downrod is connected to the motor module of the ceiling fan, the blades can now be connected to the motors either by snapping it in place or by mounting screws in place.
This will depend on the make and model of your ceiling fan. Finally, you can place the LED bulbs on the center of the ceiling fan. The LED bulbs have integrated brightness levels.
5. The Smart Ceiling Fan WiFi App
What you installed cannot be considered a smart device if it is not automated or controlled via smartphone or any smart device.
So upon installing your ceiling fan, you will have to download and install the WiFi specifically developed for your smart ceiling fan.
With an app, you can connect to your ceiling fan module via Wi-Fi and you can now turn your fan and bulb on and off.
The ceiling fan can also have a scheduled program wherein you can set your ceiling fan to turn on for a specific period of time on various days.
The speed, sleep timers, brightness of the light can also be programmed easily with this app. All of this is made possible by using your smartphone.
After finally installing your smart ceiling fan, you will no longer have to worry about turning your fan on or off.
It will already know when to turn it on, it will also know when to turn the lights on or when to dim them.
The room temperature can be controlled if your smart ceiling fan has a smart thermostat in tandem.
Such that if it is too hot in the room the ceiling fan will automatically turn on to cool down the room. If it is too cold, it will spin in reverse to create an updraft to heat the room.
This wonderful tandem of smart devices ensures the perfect temperature for your home.
Why invest in a Smart Ceiling Fan?
This should not be a question for smart homeowners. Placing smart ceiling fans in your home minimizes not only your electric bills but also minimizes the effort of pulling a chain up or down.
So scrap those old and weird humming ceiling fans in your homes, and replace them with new and smarter ones.
With the smart ceiling fan, you can set it so that when you arrive home, you can either have it turned on upon entering your home or have your room temperature set to your desires even before you get home.
Set the light brightness schedule so that you won't have to turn it off when you go to bed, instead have it set automatically so it will dim the brightness level at the same exact time of your normal sleeping schedule.
As a bonus, you can surprise your visitors by showing off your new smart ceiling fans. Watch their reactions when your fan turns on by itself and let it be a topic of discussion.
How much do they cost?
Smart ceiling fans sure are a great addition to any home but it also comes with a price. The traditional pull chain ceiling fans have an average price of $50-$150 on Amazon. But as said in the beginning, it is not a smart device.
You will have to pull the chain to turn it on and off, a lot of the time, it does not have speed control.
The smart ceiling fan, however, provides full automation for your home for as low as $300. But if you want to enjoy the full benefits of the smart ceiling fan, spending as much as $1,000-$1,500 will not be a waste.
Perfect temperature control for your home
The ideal temperature for any home should range from 72degF(22degC) to 79degF(26degC). This is usually hard to achieve especially during the summer and winter seasons when temperatures either become scorching hot or freezing cold.
The only way to achieve the perfect temperature is to have a temperature control system. Some homes have smart air conditioning units and smart thermostats to control their temperatures. However, it has been seen to use a lot of energy thus making the electric bills rise.
It is usually overlooked that fans can cool down the house significantly even without the air conditioning unit, but ordinary fans cannot heat up a freezing house.
By adding a bi-directional automated fan, or much better a smart ceiling fan, the temperature control system becomes a perfect system for a smart home.
This system provides perfect temperature control while using a minimal amount of electricity.
So if you are planning to have a smart home integrated with a temperature control system, you will need to integrate a smart ceiling fan in your home in tandem with your smart thermostat.
Conclusion
Smart homes are finally a trend in this era of smart devices. If you are a smart homeowner, it is but proper that you own all smart appliances, and having a smart ceiling fan should be one of them.
This device is very advantageous in terms of automation, temperature control, and energy-saving.
The air conditioning unit does not have to be turned on every time someone feels hot. All you have to do is to turn on your smart ceiling fan and let it cool down your home.
A truly wonderful smart device, the smart ceiling fan is a great addition to your home and you will surely not regret getting one.
From simple automation functions to the most complex scheduling function and autonomous controls via WiFi, the ability to control your ceiling fan through your smartphone is truly a breakthrough.
By connecting it in tandem with other temperature control smart devices, you can create a perfect paradise for your home and make all of your family members or anyone who enters your abode feel good.
It is most definitely a product worth considering. It adds that extra convenient control that everything should have in today's current market.