With today's technology, it isn't difficult to send a wireless video stream anywhere you want. Why not use the technology to see who's at your front door at all times, using a wireless front door camera? But which of types of front door cameras is right for you? Let's find out.
A front door camera can transceive information from an internal camera and microphone back to a speaker, allowing you full two-way communication with someone at your front door, using your favorite device.
What are the different types of wireless front door cameras?
Wireless front door camera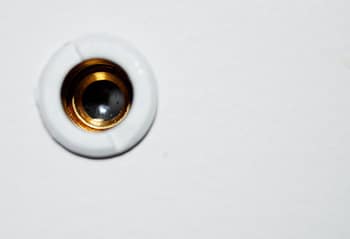 This is a camera only, that mounts on your door, next to your door. It's also very easy to install.
One of the wireless types is a peephole camera. This replaces your existing peephole with a camera version.
Normally, an LCD display is installed behind the door, so you can see the image that the it receives at all times.
WiFi connectivity should also be available in most cases. So you can connect your smartphone or tablet using an app.
Smart doorbell with wireless camera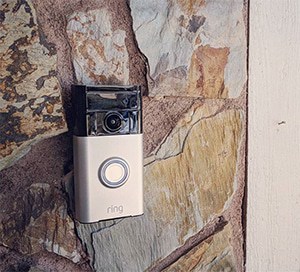 Extremely easy to install, the wireless camera is integrated into a doorbell. It simply mounts around the average face height, so people can communicate with you after they ring the doorbell.
This naturally has many benefits, but I think the key advantage is being to communicate with someone right there at your front door, without needing to know their phone number.
You can optionally connect your existing doorbell wire so it has the ability to ring your existing doorbell.
Some features of the popular Ring Video Doorbell 2:
Integrates well Alexa and allows communication through Echo devices.
1080HD Wide angle video
Built in microphone and speakers
Instant mobile alerts
A lifetime of free replacement for theft
Surveillance camera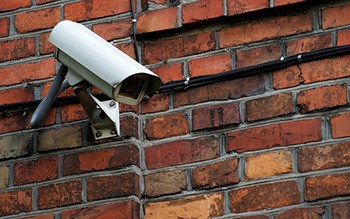 These ones are normally purchased to do one thing, watch a specific area. It's more of a full home security related product.
Unlike a front door camera, they are often mounted quite high up and can have one-way audio too.
These kinds usually require more installation work. They are usually screwed into the wall and sometimes a wire has to be run to it, with a power cable.
I just thought I'd mention, if you are thinking of buying one of those dummy cameras, think again. I've tried it a few times on different buildings and people know when it's real or not. If you are on a tight budget and have no other way out, rather buy a cheap one.
What range do you get from them?
This depends on quite a few factors. There are many things that come into the signal strength to your wireless front door camera. I'll run through a few of the most important considerations.
The distance between your camera and your WiFi router, or distance to the closest extender device.
How many walls you have between the two items. The types of wall and what's inside them also makes a difference.
The type of WiFi your home network has.
Your WiFi router's design.
You have any extenders installed for your WiFi.
The quality of both products (WiFi router and camera).
Now that the main factors have been listed, here are some other things to look at.
Here are some tips on extending your WiFi range in your home or office.
Look at your WiFi router in your home. If you have an 'n' type wireless capability, for example, your range should be around 230 feet indoors.
If you can't see anything specific, or cannot figure it out, take note of the model number and type it into Google. You will soon find a product page for it, in one of the search results.
On the product page of your WiFi router, under the specifications area, you will be able to see a list of wireless types or categories.
Here is a short list of the most common types and their respective ranges:
| | |
| --- | --- |
| WiFi 802.11 Protocol Type | Indoor Range in Feet (ft) |
| ad | 11 |
| ac | 115 |
| n | 230 |
| g | 125 |
| b | 115 |
| a | 115 |
How much do they cost?
The average price for different types of cameras is around $150 – $200 for something worthwhile.
Here are examples of popular devices that you can get:
A single Arlo Pro surveillance camera is around $160.
The Brinno wireless front door peephole camera is about $140.
And the very popular Ring Video Doorbell 2 costs around $200.
This should give you some insight into the current market as far common item prices are concerned.
Where does the recorded video get stored?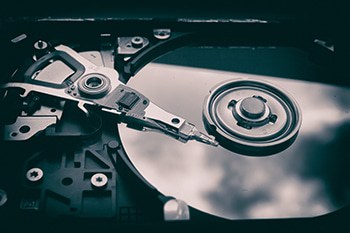 The three main places recorded video gets stored:
With surveillance cameras, the most likely place to store your video recordings would be in the DVR unit.
Some wireless cameras have an SD card slot where the video is stored.
Other types make use of a cloud facility to save your video.
With a bit of ingenuity on your part, you could tie it into your home network storage.
How does it know when to record?
The moment motion is detected by the camera, it will start recording, and alert you if that's how you've set it up.
The other way is when you start it manually, using your preferred device. This involves opening an app or browser, depending on which device you are using.
A smart doorbell can start an instant video feed once the doorbell button has been pressed.
Where can I view the live video from?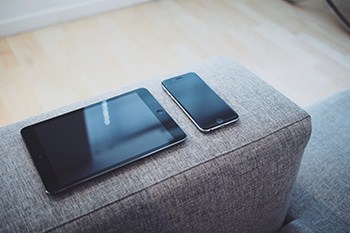 Provided you have chosen an adequate WiFi door camera, you can view the video in real time using most smartphones, tablets, laptops or computer.
A smart doorbell will allow you to have a two-way conversation with video using your phone, tablet or computer. Smart refrigerators now have the ability to work well with it.
If you have a surveillance camera, you will be able to view it on any common device like your phone, tablet or computer.
Conclusion
Out of the main three types of commonly used ones, a wireless doorbell is a very practical choice. It offers a wide range of usability for the cost of the product.
Having the ability to answer your front door from any device you want, is quite a useful feature. I could tell someone that's delivering a package for me, to simply leave it in a specific place.
Another useful thing is telling someone to wait a few more minutes before leaving, so you don't miss them.
So two-way communication is a huge selling point in my opinion.
Even if you have a security system installed, or some sort of surveillance system, this product could still be added to provide you with some extra features.
Out of all of the wireless front door camera options, here is my recommendation.
If you don't have anything installed as yet, fitting a smart doorbell with a wireless built-in camera would definitely be my recommended choice. It's easy to install and has a solid list of features to benefit from.